A Guide to the Elder Tongue of Arborell
Here can be found the First Book of Haer'al; a primer to the pronunciation and usage of the most ancient of languages in Arborell. Within this book you will find word lists and pronunciation guides, grammar instructions, sample texts, and a meta-history to the origins of the Elder Tongue. For those who choose to journey the lands of this world there can be found many clues and mysteries that only the Elder Tongue can unlock. In truth a traveller may wander the realms of Arborell without need to understand a word of this ancient language. A traveller however, who can translate the many inscriptions and signs that can be found within this world will have a window to an easier path, and a less dangerous journey.

In its new PDF edition The First Book of Haer'al includes the following:

a complete Grammar Guide,
Punctuation conventions and guidelines,
a Language Meta-history and mythology,
a 7500 item word list including Haer'al to English and English to Haer'al translations,
Number lists, and
Sample texts of the Parable of the Unwary Traveller and the Maiden of Despair and the Sorrows of Gedhru and Aume in their original Haer'al form.
In the context of its use within the Chronicles of Arborell, Haer'al is the code that can be used by a reader to identify hazards ahead, or clues to overcoming important obstacles to your quest. Most of these clues can be found within the lines of the Ather'Lorell as you travel, or may be encountered in dialogue with characters, or upon carvings or other relics.

The First Book of Haer'al allows you to take advantage of these clues. It is important to restate however, that a reader of the Chronicles of Arborell does not need to know Haer'al to proceed on their adventure. It is purely a mechanism by which an adventurer may explore a further aspect of the Chronicles, and as such may be used, or discarded, at the reader's whim.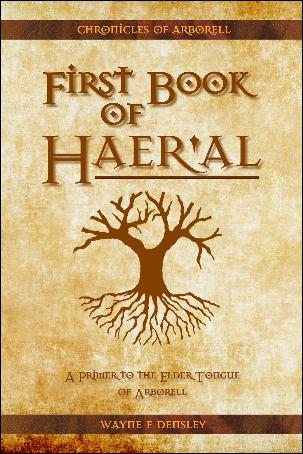 This primer to the Elder Tongue has been produced in a standard 6 x 9 inch PDF format and requires Abode Acrobat or a comparable PDF reader to access. A new version of this document is now available that includes the full-colour cover as presented above. For players who may be using screen readers a text version has also been compiled. Links to these files can be found below.



Download The First Book of Haer'al as a PDF document
Download a text version of this book if you are using a screen reader