Arborell.com is proud to announce that the winner of the 2010 Windhammer Prize for Short Gamebook Fiction is Stuart Lloyd for his quirky pirate adventure, Sharkbait's Revenge. Merit Awards have also been awarded to Ashton Saylor for his modern fantasy entry, The Gates of Heaven and Hell, and to Zachary Carango for his excellent sci-fi adventure, Red World. All winning gamebooks are available for download by clicking on the awards presented below. May Glory and Renown follow all who have found success here.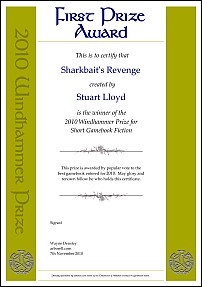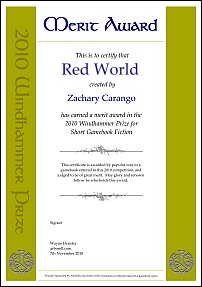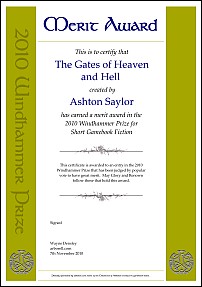 As with previous competitions, this year's entries were both wide-ranging in theme and outstanding in content. The Windhammer Prize asks an author to provide a full gamebook experience within very limited boundaries, and within these constrictions the works submitted have proven the creativity and skill of those who have entered. Well done to all. As sponsor of the Windhammer Prize I can assure all who may wish to participate that the 2011 competition is already being planned. Thankyou to everyone who participated.

For anyone wishing to obtain this year's entries, or read the contest guidelines and content criteria for 2010 they have been retained below.


Competition Entries for 2010

Here can be found all competition entries submitted for the 2010 Windhammer Prize that have met the entry criteria. Entries have been listed in no particular order and have not been grouped with any importance regarding genre or subject matter. As per the competition rules, all entries have been given a standard competition format and are available for free download as pdf files. Adobe Acrobat Reader, or an equivalent pdf reader will be required to access these gamebooks. Rules regarding how to vote in this year's competition can be found in the information given below. Voting begins on the 14th of September and concludes on the 30th of October.



Please feel free to download each of these great entries. Please note also that these gamebooks are now included as a part of the Windhammer Prize Gamebook Archive.


Entry Requirements and Content Guidelines for the 2010 competition

All entries submitted this year met the following criteria.


All entries must be in English.
All entries must be original works and not set in the world of Arborell.
All entrants must state clearly on the first page of their entries that they are the authors of the work submitted.
All entries must be provided in rich text format (rtf) and sent as an email attachment to entry@arborell.com.
All character or status sheets provided with entries must be presented in a simple layout that does not include complex table formats.
All entries must be spell-checked and properly tested prior to submission.
As this is a competition for short gamebook fiction it is required that the total length of the entry does not exceed 100 sections, or more than 40 A4 pages if printed. Having said this the entry may either be a complete stand-alone story or a self-contained excerpt from a larger gamebook adventure of your own creation.
The entry can be of any genre except erotica.
As this is a gamebook competition the entry must possess at the least a rudimentary character generation system and/or inventory management process to be eligible for the Windhammer Prize.
There is no entry fee.
All rights remain with the author and the author may withdraw their entry at any time during the course of the competition.
An entrant can submit only one entry.
All participants must have a valid Paypal account at the time of submission. For reasons given below you must have a valid Paypal account if you wish to receive a cash prize. Account information is not required by the organisers of this competition unless you are one of the winning entrants. Only at the time of winning a prize will you be asked for your Paypal details.

A Note for All Prospective Entrants

It is the intention of the Windhammer Prize to promote the gamebook genre, and in doing so deliver to readers new and original adventures that express the innovation and creativity that can be found in authors of interactive fiction today. In pursuit of this objective the Windhammer Prize values most those gamebook entries that expand the boundaries of the genre. If you believe you have an idea for a work of interactive fiction that is both original and innovative then this competition is definitely for you.


Competition Deadlines for 2010

The following competition calendar applied for the 2010 competition.


| | |
| --- | --- |
| 1 March | Competition guidelines released |
| 1 August | Entry submissions begin |
| 7 September | Entry submissions close |
| 14 September | Voting begins |
| 30 October | Voting closes |
| 7 November | Winners announced |

Additional time has been provided for both the submission and voting phases of the competition this year to account for the growing number of entries and the time required to properly evaluate them by readers. As requested by a number of entrants the date for providing competition rules and guidelines has been changed to the 1st of March to also provide a longer development period for entries.


Voting

The Windhammer prize is awarded on the basis of reader popularity to the entrant who receives the greatest number of reader votes. The voting system is as follows:


A valid vote must be forwarded by email to vote@arborell.com. A valid vote must nominate the two gamebooks most favoured by the voter from the competition entrants. A vote with less than two nominations will not be accepted. A vote forwarded with more than two nominations will only have the first two accounted for in the voting score.
Only one voter email is allowed per reader. All votes will be checked for duplication of email addresses.
Feedback to the authors may be forwarded to the competition sponsors at feedback@arborell.com. All feedback given will be provided to authors at the end of competition as a part of the email notification of results.


Prizes - Winning Entrant

The winner of the Windhammer Prize will receive the following:


$120 AUD (Australian Dollars) to be paid within 48 hours into a Paypal account of the winner's choosing. As this is an international competition it has been decided that Paypal is the best mechanism for distributing the prize. If you do not have access to a valid Paypal account the cash prize cannot be paid.
A winners certificate memorialising their success in the competition.
Featured hosting of their story on arborell.com. This is optional and is at the discretion of the winning entrant.
Prizes - Merit Awards
Two entries shall also be chosen for Merit awards. These entrants shall receive a certificate, a cash prize of $20AUD and featured hosting of their entries on arborell.com. As with the hosting of the winning entry this is optional and is at the discretion of the entrant.


Please note that framed certificates will not be provided for this year's competition winners. Forwarding large framed prizes around the world has proven problematic and therefore the certificate itself shall be forwarded as well as a $20AUD nominal cash prize to pay for a suitable frame, or to be used for other purposes at the winner's discretion.

Questions

Any questions regarding information contained here can be forwarded through feedback@arborell.com
and will be answered promptly.